Philipp Wegerich, M.Sc.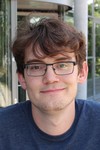 Institut für Medizintechnik

Universität zu Lübeck
Ratzeburger Allee 160
23562 Lübeck
Gebäude 64, Raum 043
Research
Research interests
Non-invasive hemoglobin measurement
Monitoring
Electrical Engineering
Signal Processing
Curriculum Vitae
PHILIPP WEGERICH was born in Erfurt, Germany, in 1991. He received his Master of Science in Biomedical Engineering in 2016 from the University of Technology Ilmenau, Germany. During his study he was mainly interested in electromedical engineering. Due to this interest he was a student assistant in the Lab for Biomechatronics for the research group Human-Computer Interaction. He wrote his master thesis about fetal pulse oximetry at the department for Biosignal Processing. He is a Research Assistant at the Institute of Medical Engineering since 07/2016.
Publications
2016 [ to top ]
Mackenberg, M., Rackebrandt, K., Bollmeyer, C., Wegerich, P., Gehring, H. and Hellbrück, H.:

Reflection and transmission of ultra-wideband pulses for detection of vascular pressure variation and spatial resolution within soft tissues

,

Biomedical Physics & Engineering Express

, 2

(

6

)

, 065003, 2016.
2015 [ to top ]
Lutherdt, S., Kaiser, E., Kirchhofer, T., Wegerich, P. and Witte, H.:

Investigation of Sensitivity of Foot Soles to Vibrational Stimuli: First Results for Developers of Information Interfaces.

, In:

Human Aspects of IT for the Aged Population. Design for Everyday Life

, 290-299, 2015.