Sebastian Schulz, M. Sc.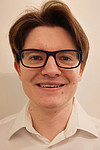 Fraunhofer-Einrichtung für Individualisierte und Zellbasierte Medizintechnik IMTE

Mönkhofer Weg 239a
23562 Lübeck

---
Sebastian Schulz was born in Bermen, Germany in 1988. He studied physics in Göttingen and Hamburg, with an emphasis on astrophysics and cosmology. After completing his Master of Science in 2021, he decided to switch his research to a less theoretical topic, with opportunities for real world applications. In 2021/22 he worked as a software engineer at the Medical Laser Center Lübeck on the Neuro OCT project, developing a framework to reconstruct OCT images. Since April 2022 he is part of the group of Prof. Matthias Gräser at Fraunhofer IMTE, where is focused on combining MPI with magnetic manipulation.
---
---
Sebastian Schulz, Multi-field inflation with random Potentials, Bachelor thesis, Institut für Astrophysik, Georg-August-Universität Göttingen, 2011.
Sebastian Schulz, Analysis of star formation rates with the Low Frequency Array, Master thesis, Hamburger Sternwate, Universität Hamburg, 2022.