Eric Aderhold, M.Sc.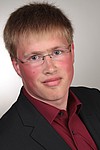 Fraunhofer-Einrichtung für Individualisierte und Zellbasierte Medizintechnik IMTE

Mönkhofer Weg 239a
23562 Lübeck

---
---
Magnetic Particle Imaging
---
ERIC ADERHOLD was born in Hamburg, Germany in 1993. He received his Master of Science in Medical Engineering Science in 2020 from the Universität zu Lübeck, Germany. The topic of both his Bachelor- and Masterthesis was the imaging modality Magnetic Particle Imaging (MPI). During his study, his main interest was medical imaging as well as signal processing and control. In 2020 he joined the Fraunhofer Research Institution for Marine Biotechnology and Cell Technology to continue his work on MPI as a research assistant.
---
2020[ to top ]
Aderhold, E., Schumacher, J. and Buzug, T. M.:

Co-optimisation of send and receive coils

,

International Journal on Magnetic Particle Imaging

, Vol 6 No 2 Suppl. 1 (2020), 2020,

DOI:

10.18416/IJMPI.2020.2009037

.
2018[ to top ]
Aderhold, E., Buzug, T. M. and Friedrich, T.:

An Acoustic Magnetic Particle Spectrometer

, In:

International Workshop on Magnetic Particle Imaging

, 115, 2018.