Nadja Kohlhase, M.Sc.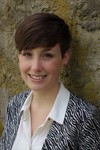 Institut für Medizintechnik

Universität zu Lübeck
Ratzeburger Allee 160
Lübeck
Gebäude 64, Raum 024
Research
Research Interests
Nuclear Imaging
Nuclear Image Processing
Range Verification in Particle Therapy
Prompt Gamma Ray Imaging
Compton Camera
Curriculum Vitae
NADJA KOHLHASE was born in Hünfeld, Germany in 1990. She received her Master of Science in Medical Radiation Sciences in 2017 from the Technical University of Dresden, Germany. In 2017 she wrote her master's thesis on "Characterization of a Proton Bunch Monitor for range verification in proton therapy by means of the Prompt Gamma Ray Timing method" at OncoRay, National Institute of Radiooncology at the research group In-Vivo Dosimetry for New Types of Radiation in Dresden. She is a research assistant at the Institute of Medical Engineering since 1/2018.
Theses
Nadja Kohlhase, Performance evaluation of electronic cleansing for non-cathartic ultra-low-dose dual-energy computed tomography colonography, Bachelor thesis, Massachusetts General Hospital and Harvard Medical School, Boston, 2015.
Nadja Kohlhase, Charakterisierung eines Proton Bunch Monitors für den Einsatz in der Protonenreichweiteverifikation mittels der Prompt Gamma-Ray Timing Methode, Master thesis, OncoRay, Dresden, 2017.